CMM ARTISTS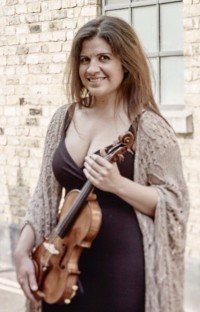 VICTORIA MAVROMOUSTAKI - VIOLIN & FOUNDER OF CMM
In addition to her solo engagements and her regular collaborations with pianist Eleni Mavromoustaki, Victoria is also a founder member of Isolde piano trio.
Victoria has made both solo and chamber appearances in Europe, Africa and Middle East and has been on stage at some of the most prestigious venues, including London's Wigmore Hall and Cadogan Hall. As a soloist she has performed with several orchestras including the Cyprus Symphony Orchestra, and Oxford Philomusica.
Born in Limassol, Cyprus, Victoria began studying violin at the age of three with Andreas Konstantinou and made her début recital at the age of seven. She won numerous awards and prizes including, in 1999, a scholarship to study at the Purcell School of Music in the UK with Maciej Rakowsky. She, later, went on to study at the Royal College of Music under the guidance of Itzhak Rashkovsky.
As well as being a Royal College of Music Scholar, she also received many awards including the MBF Myra Hess award, the Kit and John Gander Award and the Joan Weller Award. In 2006 she won the Philip Crawshaw memorial prize at the ROSL competition and in 2008 she received an award at the Carl Flesh International Violin Competition.
Victoria is involved with many educational projects in London such as London Music Masters "LMM Learning" and the Albert Hall ensemble "Alberts Band". She was also recently appointed teacher of violin at Junior Trinity College of Music.
She is the founder of "Cyprus Music Makers" an organisation that aims to bring high quality performances and mentoring in Cyprus. Future projects involve the annual CMM chamber music festival as well as the CMM children's course. Victoria's newest projects are"Phos Music",a Classical Music Festival in Brixton as well as"Glissando & Pianomania" a children's chamber Music Course based in Herne Hill.
Future engagements include solo and chamber appearances appearances in Cyprus, England, Greece and Ireland.
Victoria plays on a fine instrument by Andrea Guarneri made in Cremona in 1680.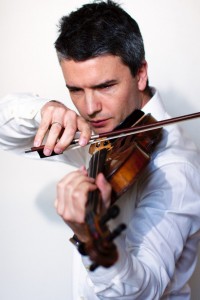 HARRY KERR - VIOLIN
Harry Kerr was born in London and began learning violin at the age of seven. Four years later he was accepted into the Purcell School of Music on a full scholarship from the Yamaichi Foundation. At eighteen he went on to the Royal College of Music (RCM) to study with Professor Itzhak Rashkovsky.
Whilst studying at the RCM, where he was awarded prizes such as the Constant and Kit Lambert Studentship, the Countess of Munster Soloists, and the KPMG Martin Musical Award, Harry was invited to perform not only in the major recital venues in London but also in Greece, Cyprus, Israel, Iceland, South Korea and Bermuda.
A Senior Exhibition Scholarship enabled him to further his studies as a postgraduate at the RCM, after which he moved to the Royal Scottish Academy of Music and Drama – now known as the Royal Conservatoire of Scotland - where he completed his Masters Degree and where he was awarded the Schubert Recital Prize. At this time he began collaborating with his duo partner, pianist Eleni Mavromoustaki, with whom he has toured extensively.
Harry Kerr is currently working with the major London orchestras. In addition to performing regularly on the worlds most most prestigious stages, such as Carnegie Hall New York, Concertgebouw Amsterdam, Musikverien Vienna, Royal Festival Hall London, La Scala Milan to name a few, he enjoys participating in recording soundtracks for film and teaching as part of London Music Masters Bridge Project.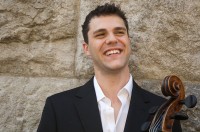 JOE ZEITLIN - CELLO
Joseph started the cello at the age of nine. He obtained musicscholarships to Wells Cathedral School, The Purcell School and The
Royal Academy of Music.
Graduating from the Academy with a first class Honors Bmus in 2005 under David Strange, he was the recipient of the Reginald Thatcher Award for achievement. Joe then achieved a DipRAM (Distinction) qualification in his Post-graduate Diploma under Colin Carr, Felix Schmidt and David Strange, which was funded by both The Fishmonger's and Laura Ashley scholarship awards.
During this time he won the May Muckle cello competition, reached the final of the RAM Club prize, and won the Moir Carnegie award for the best post-graduate final recital. He has since taken part in masterclasses with Steven Isserlis, Gary Hoffman and Steven Doane.
Joe is currently a member of the Eeden Quartet and performs regularly with them across the world. Performances have included London's Wigmore Hall, King's Place, St Martin in the Fields, Holywell Music Rooms, The Paris Conservatoire, The Arnold Schoenberg Centre and ORF Radiokulturhaus in Vienna, and the National Concert Hall in Beijing. The Quartet now performs regularly across the U.K and Europe.
They recently made their full recital debut at the Wigmore Hall, to critical acclaim.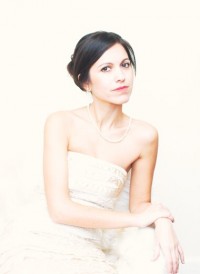 ELENI MAVROMOUSTAKI - PIANO & CMM ARTISTIC DIRECTOR
Her successes include prizes at the Maria Callas Grand Prix in Athens, Mozart International Competition Salzburg, the EU Piano Competition in Prague, the Royal Overseas League Competition, the Patras International Piano competition and the George Themis Pan-Hellenic Piano Competition.
Eleni has performed concerti with orchestras including the Cyprus Symphony Orchestra, the Patras Chamber Orchestra, the state orchestra of Thessaloníki, and collaborated with the Scottish Ensemble and the Hyperion Ensemble. Performances have taken her to Greece, Cyprus, Italy, Iceland, South Korea, the UK and USA, appearing in venues such as the Megaron in Athens and Thessaloníki, The Rialto Cyprus, St.Martin-in-the-Fields, The Queens Hall Edinburgh and The Seoul Concert Hall. She has also recorded for CYBC radio and television on several occasions.
She is renowned as an artist of '…determination, accuracy and supreme expression.'
Outside her solo activities Eleni is an enthusiastic chamber musician performing with her sister, violinist Victoria Mavromoustaki, and violinist Harry Kerr. Eleni has a keen interest in contemporary music and has collaborated with composer Constantinos Stylianou on a number of occasions.
Born in Cyprus Eleni began piano lessons aged five and later trained at the Royal College of Music and Royal Scottish Academy of Music and Drama. Her mentors have included her mother Novia Mavromoustaki, Pitsa Spyridaki, Yu Chun Yee, Yonty Solomon, Fali Pavri and Martino Tirimo. During her studies Eleni was generously supported by the Leventis Foundation.
FRANCIS KEFFORD - VIOLA
Australian-born violist, Francis Jonah Kefford, enjoys a diverse career as a chamber musician, teacher, festival director and orchestral musician. After studying in Toronto with Steven Dann, his most affecting musical influence, Francis remained in Canada for two seasons as Acting Principal Violist of the Canadian Opera Company. In the UK, Francis is a frequent performer with the London Symphony Orchestra and the Royal Opera House Orchestra. He has led the viola sections of the BBC National Orchestra of Wales, the Royal Liverpool Philharmonic Orchestra, the Bournemouth Symphony Orchestra and the Royal Philharmonic Concert Orchestra. Francis also performs regularly with the UK's pre-eminent chamber orchestras: including the Britten Sinfonia; English Chamber Orchestra; Aurora Orchestra; and the London Mozart Players. He is currently Principle Viola of O/Modernt, an exciting new chamber orchestra and contemporary music ensemble under the direction of Hugo Ticciati.
Francis is Co-Director of the Saronic Chamber Music Festival, an annual chamber music festival in Greece, where he has developed a culture dedicated to deep exploration of the repertory in ensembles based in profound friendship as well as artistry. Here, and at other chamber music festivals across Europe – including among others, Zodiac Music Festival and Academy, France; Whittington International Music Festival, UK – Francis has collaborated with some of the finest musicians of his generation.
In 2007, Francis premièred 'Elegie' - a work for viola and string orchestra by the late, great Australian composer, Peter Sculthorpe – at the International Viola Congress held that year in Adelaide, Australia.
Francis plays a viola by Rodolpho Fredi (Rome, 1931).
ANTOINE FRANCOISE - PIANO
After studying in Switzerland and United Kingdom with professors Paul Coker, Yonty Solomon, Andrew Ball, Ashley Wass (piano), Laurent Estoppey (saxophone) and Michael Oliva (composition), Antoine Françoise performs nowadays in Europe and further as a soloist, chamber musician, with ensembles and orchestras. At the term of his studies at the Royal College of Music in London, he was awarded the prestigious Tagore Gold Medal, for his outstanding talent and dedication to music. Antoine now is a professor of piano (contemporary specialism) and chamber music at the RCM.
Fascinated by the chamber music of the 20th and 21st centuries, as well as all new expressions of modern music, Antoine is founding member of the Mercury Quartet and the Francoise-Green piano duo. He is also principal pianist of Nouvel Ensemble Contemporain (NEC, Switzerland), Ensemble Contrechamps (Switzerland), ensemble Nikel and London Contemporary Orchestra. He also plays regularly with the London Sinfonietta, Philharmonia Orchestra and City of London Sinfonia. He played with conductors such as Diego Masson, Pierre-Alain Monot, Nicholas Collon, Clement Power, Johannes Kalitzke, Lorraine Vaillancourt or Vladimir Jurowski.
Antoine has appeared at many international festivals in Europe, USA, China and Singapore, including Wien Modern, Davos Young artist, Jardins Musicaux, Huddersfield festival, Manifeste (Paris).
Antoine worked closely with composers such as Steve Reich, Helmutt Lachenmann, Chaya Czernowin, Rebecca Saunders, Stefan Prins, Hans-Peter Kyburz (giving the uk premiere of his concerto) and Eric Gaudibert (who dedicated his last concerto GONG to him). He counts now hundreds of premieres in his repertoire. As part of the London Contemporary Orchestra, he also performs regularly alongside guitarist and composer Jonny Greenwood and premiered his solo piano suite: 88.
Since September 2015, Antoine is in charge of the artistic direction of the Nouvel Ensemble Contemporain.
MICHALIS ANDRONIKOU - 2019 FEATURED CYPRIOT COMPOSER
Michalis Andronikou is a composer and associate professor of composition and theory at Providence University, in Manitoba. He holds a PhD in composition from the University of Calgary. He received his Bachelor in musicology from the Department of Music Studies, University of Athens, Greece. He has a Diploma in Classical Guitar, Clarinet and Music Theory from the Trinity College and the Royal Academy of Music, and a Diploma in Byzantine Music from the Argyroupolis Municipal Conservatory. Michalis gained credentials in Harmony, Counterpoint, Fugue, and Music Composition (with Theodore Antoniou) from the Hellenic Conservatory. Moreover, he has studied Greek folk instruments such as lute, tampoura and bouzouki.


Michalis has composed music for small and large ensembles, theatre plays, art exhibits, movies, songs. Seven CDs with his works have been released, since 2003, and his scores are published by the Canadian Palliser Music Publishing, the Bulgarian Balkanota, and the Italian Da Vinci Edition.
Michalis is an associate composer of the Canadian Music Centre, a member of the Canadian League of Composers, a member of the Greek Composers Union and a member of the Center of Cypriot Composers.
RUTH GIBSON - VIOLA
Ruth Gibson has appeared at the world's leading concert halls, including Wigmore Hall, Het Concertgebouw in Amsterdam,Queen Elizabeth hall, Auditiorio Sony in Madrid and Berlin Konzerthaus. Her love of chamber music is fulfilled through her work as a member of Ensemble 360, and regular festival performances across Europe. She regularly performs with Internationally renowned Irish pianist Barry Douglas, including a recent performance of Schubert Trout Quintet and Brahms piano quartet live for BBC3 at the Clandeboye Festival. Other 2015 highlights include Odsherreds Kammermusikfestival, Southwell Festival, Saint-Mere Festival and Nuremberg International Chamber Music Festival
Ruth is a laureate of numerous prizes. As a member of the Finzi Quartet she was a Prize Winner of the 2010 Royal Over Seas League Competition and the 5th Trondheim International String Quartet Competition in Norway. Other notable awards include the Tillett Trust, the Tunnell Trust, the Kirckman Concerts Society, the Swiss Global Artistic Foundation, the Hattori Foundation Awards and the Park Lane Group Award, for which she later won as soloist in 2015. Alongside Ensemble 360, she plays regularly with the Scottish Ensemble and Nash Ensemble, and performances in 2014 included Wigmore Hall, Cadogan Hall and Berliner Philharmoner. She has toured China, South America, Russia, Finland and Mexico as Principal Viola with Camerata Ireland, and regularly guest as Principal Viola with Manchester Camerata, Aurora Orchestra and City of London Sinfonia. Ruth was also selected as Park Lane Group Solo artist this year, having recently performed the solo viola works of Penderecki at the Purcell Room. As soloist she has performed under Sir John Elliott Gardiner with the Bournemouth Symphony and has broadcasted for BBC4. As a 2015 Park Lane Group Solo Artist she preformed the viola works of Pendercki at the Purcell Room London in and performed John Woolrich's Ulysses Awakes for Solo Viola and Strings in Germany. As a member of Chambr, she collaborated with Jazz guitarist Nick Tyson, performing live across the UK and recently collaborated with singer song writer Keaton Henson on his latest album, Behaving. Ruth is a tutor in Viola at the Royal Northern College of Music in Manchester and is also the founder and artistic director of the String Quartet Collective which is currently in residence at the Royal College of Music in London.
STEPHEN UPSHAW - VIOLA
Since making his concerto debut at 17, he has won several competitions and played in festivals around the world including IMS Prussia Cove, Lucerne, Brighton, Huddersfield, Aix-en-Provence, Wien Modern, Oxford Chamber Music, Musica Nova (Finland), SPOR (Denmark) and the Salzburg Chamber Music Festival alongside artists such as Gary Hoffman, Philippe Graffin, Jennifer Stumm and the JACK Quartet. In recent seasons, recital and chamber music engagements have brought him to Boston's Jordan Hall, London's Barbican Hall, Wigmore Hall and Royal Opera House, Weill Recital Hall at Carnegie Hall and Vienna's Konzerthaus.
A noted interpreter of contemporary music, Stephen recently performed Feldman's complete "The Viola in My Life" at London's Cafe Oto and has given numerous national and international premieres with groups such as Ensemble Modern, Klangforum Wien, Ensemble Proton (Switzerland) the Harvard Group for New Music, Le Balcon (Paris), Aurora Orchestra and Rambert Orchestra (London), and the Bodø Sinfonietta (Norway), working closely with composers such as John Adams, Heinz Holliger, Julian Anderson, George Benjamin, Christian Wolff and Michael Finnissy, who recently composed a new solo piece for Stephen. He was also recently invited to join London's acclaimed Riot Ensembleas violist and artistic board member.
A passionate chamber musician, Stephen has toured the USA, Europe and Asia with the Academy of Saint Martin in the Fields and its music director, Joshua Bell, having also collaborated with the London and Irish Chamber Orchestras. Chamber Music mentors include, among others, Paul Katz, Ferenc Rados, Alasdair Tait and members of the Takacs, Belcea, Endellion, Arditti and Borromeo Quartets. He was formerly a member of the London-based Geminiani Quartet, who earned first prize in the Alexander and Buono International String Competition and won the ISA prize (Austria) for their interpretation of music of the Second Viennese School.
A native of Atlanta, he studied with Dr. Marilyn Seelman before earning a BMus(Hon) from the New England Conservatory in Boston where he studied with Carol Rodland and Martha Strongin-Katz. Additionally, he has appeared in masterclasses with Thomas Riebl, Andras Keller, Kim Kashkashian, Pinchas Zukerman and Nobuko Imai.
Stephen completed his Postgraduate studies in the class of David Takeno at the Guildhall School of Music and Drama, where he was elected a Junior Fellow, and is grateful for support from the Guildhall School Trust, Help Musicians UK, the Albert Cooper Memorial Trust and the Nicholas Boas Charitable Trust.
For the 2016/2017 season, Stephen has been awarded a Fellowship from Trinity Laban College of Music and Dance.
Stephen plays a 1715 Daniel Parker school viola currently made available to him by Nigel Brown and the Stradivari Trust.
SAVVAS CHRISTODOULOU - FLUTE
Savvas Christodoulou was born in Limassol where he began his musical studies at a young age. In 2005 he moved to Prague to study flute performance at the Prague National Conservatory from where he graduated in 2010. In the same year he was accepted at the Utrecht Conservatory to study with the world famous flute soloist Aldo Baerten. During his time as a student, he was a member of the Conservatoire Symphony Orchestras in both Prague and Utrecht. He obtained his Bachelor degree on flute performance and education with honors in 2012. In addition, he studied the piccolo with Gudrun Bourel and Baroque performance with the internationally renowned baroque flute specialist Wilbert Hazelzet. In 2015 he obtained his Master degree in flute performance on stages. He participated in several Masterclasses worldwide with famous flutists such as Sir James Galway, Emmanuel Pahud, W.Bennett, P.L. Graf, M. Bellavance, S.Milan, D.Bouriakov and others.

Alongside his teaching engagements at the Pafos and Limassol Music Lyceums, Savvas enjoys a performing career as a soloist, chamber and orchestral musician. He appears regularly in flute recitals and chamber music concerts in The Netherlands, Belgium, Czech Republic, Greece and Cyprus.
He is a guest member of Cyprus Symphony Orchestra and he appears regularly with the Commandaria Orchestra. Savvas is also the founder of the Cyprus-based Quintus Wind Quintet and a member of the Ensemble Cyclamen.
ANDREAS TSIARTAS - CMM 2018 FEATURED CYPRIOT COMPOSER
Andreas Tsiartas was born in Cyprus in 1986. He studied composition with Jörg Herchet and Manos Tsangaris as well as electronic music with Franz Martin Olbrisch and Michael Flade, at the Hochschule für Musik"Carl Maria von Weber" in Dresden, Germany. He graduated with distinction (Diplom Komponist) in 2010, and as of 2017 he is pursuing a PhD in Composition at the University of York, with Thomas Simaku. He is a full scholarship holder by the Onassis Foundation for the period 2017-2020.
In 2009, Tsiartas was also granted the prestigious Scholarship of the Study Foundation of the German People (Studienstiftung des Deutschen Volkes) – the first of its kind to be awarded to a Cypriot composer. He has actively participated in illustrious compositional courses such as the International Summer Course for New Music Darmstadt, as well as in a number of seminars, master-classes and workshops by leading composers, including Beat Furrer, Rebecca Saunders, Gilles Gobeil, Bernhard Lang, Matthias Pintscher, Brian Ferneyhough and Joshua Fineberg.
Tsiartas' works have been performed / commissioned by such renowned ensembles and soloists as the Dresdner Philharmonie, the Studio for New Music Ensemble Moscow, Musiques Nouvelles, Rohan de Saram, Movses Pogossian, Ergon Ensemble, Johanna Vargas, Neue Vocalsolisten Stuttgart amongst others, having received their premieres throughout Europe and the Americas.
In his compositions, Andreas Tsiartas is concerned with the application of ritual elements in the formal as well as the sonic organisation of music, and he has also been experimenting with new forms of contemporary music theatre.
MARIOLA CHARITIDOU PIANO
Mariola Charitidou was born in Tbilisi, Georgia. She began piano lessons at the age of five near Inessa Tschovrebashvili, at the experimental music school for talented children of Tbilisi. After eleven years of studying there, Mariola continue her studies at the National Conservatoire of Tbilisi under the guidance of Nana Dimitriadi on the piano, Irina Sabashvili for opera and lied and Nana Leselidze for chamber music. Mariola graduated in 2003 with distinction and honours.
Since 2015 Mariola lives in Cyprus and enjoys a varied career as a performer and an educator. She has appeared on stage in Georgia, Cyprus, Greece, Bulgaria and Sweden. She regularly collaborates with other artists and young performers. She was the official accompanist for Cyprus Youth Orchestra summer academy from 2009-2012. She has collaborated with the CY youth orchestra as an opera repetiteur under the baton of Yiorgos Koundouris for the performance of Cavelleria Rusticana" 2015 and with the Cyprus Symphony Orchestra under the baton of Agis Ioannidis for the performance of the "Magic Flute" 2011.
Other notable performances include the operas Cosi fan Tutte, La Cenerentolla, Don Giovanni and Die Entführung aus dem Serail and collaborations with conductors such as Massimo Taddia, Matteo Beltrami and Daniele Agiman.
GEORGE GEORGIOU - CLARINET
Three words that characterize Mr. Georgiou's playing and approach to music. Always eager to explore new avenues, he has collaborated with most Cypriot composers, giving premieres of their works both in Cyprus and abroad. His aim to give a new perspective into music has lead into the creation of new projects, ideas and collaborations with dancers, actors, painters and visual artists. Creativity is not limited to new works, but also to more 'classically' based music. As a result, he likes to take a fresh approach to bringing classical repertoire to a wider audience. Mr. Georgiou holds degrees from City University, London (BMus, MA in Advanced Instrumental Studies) and Neapolis University, Cyprus (MBA). He has been a member of Mensa International since 2014. He has appeared in concerts in Europe, Middle East and USA and is a member of various ensembles including Evohe Wind Quintet, Chronos Contemporary Music Ensemble and the Lyrical Noise Ensemble. He is Musician in Residence at the Avaton Music Festival as well as the Artistic Director of 'Music at the Museum Concert Series'. He is a clarinet professor at the Nicosia and Famagusta National Conservatories and at the University of Nicosia. He is a recording artist for HOOK RECORDS and since 2016, he is a Silverstein Artist